VARIETALS
100% Cabernet Sauvignon
APPELLATION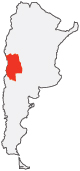 IP Mendoza, Mendoza
ALCOHOL
12.9
TOTAL ACIDITY
4.83 g/L
pH
3.9
SUGAR
3.89 g/L
WINEMAKER
Fabian Miranda
UPC
8-13878-01227-9
SUPPLIER
A long time ago, there was a compilation of interconnected lagoons. They were inhabited by the Huarpe aborigines who traveled in small picturesque canoes known as "Lagooners." The lagoons have since dried, but their magic has turned the land into a fertile viticultural region which is now home to our vineyards. This Cabernet Sauvignon is an intense wine, capable of captivating different palates. Aromas of red fruit and spices complement tastes of cherries and round tannins. Best paired with cold cuts, stews, and aged cheeses.
TASTING NOTES
Color: Red and violet glints. Aroma: Blackcurrant-cassis aromas and a spicy character. Palate: Ripe cherries and round tannins.
RESOURCES


25 Lagunas Cabernet Sauvignon 2014 Tech Sheet (PDF)


All vintages of 25 Lagunas Cabernet Sauvignon
©2016 Cannon Wines Limited. All rights reserved.